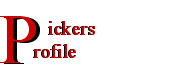 Jim Nichols Interview
By Freddie House
Appeared in the AFG Sound Hole - Issue 20 (Summer 2006- editors: Bob Felten and Tami Michelle)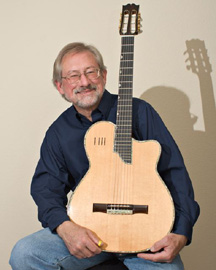 Why don't we start with a little background - where you were born and raised - and your family history?
I was born in Berea, Kentucky, where my mother's folks lived. My dad was traveling with the Charlie Spivak Orchestra, and my mother went to her parents' home to have me. At about the age of three we all moved to Virginia, where my dad was from. My relatives from my dad's side were from Virginia, and my mother's side were mostly from Tennessee.

Did you come from a musical family? You mentioned your dad being in an orchestra. Did he play guitar?
My dad played trombone and was a vocalist with several different big time orchestras, like Jimmy Dorsey and Charlie Spivak. He recorded several different records with them. My mother played piano and was a staff musician on the radio in Richmond Virginia. My sister played piano, guitar, and sang, and I have a brother who plays bass. I guess we got our ears for music from them plus a lot of encouragement. I started keeping rhythm on pots and pans when I was very young, and I had an aunt that had a Ukulele that I first learned a few chords on. When I was about ten years old my dad bought a $5 Stella guitar from a studio where he was working; he sanded and stained the top and gave it to me. A real bargain because at that time a new Stella cost $55.

What kind of music were you interested in at that time?
I had a friend, and we would sit and try to pick out the rock and roll tunes of the day, by artists like Elvis, Ricky Nelson, Gene Vincent, and The Everly Brothers. In Roanoke, Virginia there was a good guitar player from whom I took lessons for about 8 or 10 weeks. By this time though, I had discovered Chet Atkins, and I wasn't interested in learning notes or reading music. All I wanted to do was listen to and copy Chet, so I quit the lessons. I was about 12 years old by this time, and was listening to Chuck Berry, The Beatles, and beginning to get interested in jazz players like, Oscar Peterson, Jim Hall and Hal Roberts, while trying to copy Chet all at the same time.

So when did you first start playing thumb and fingerstyle guitar?
I borrowed a Duane Eddie album that had the tune "Trombone" on it, which I liked very much. In the liner notes I noticed the name Chet Atkins, and how that was his song;. My friend also had the Teensville album, which was the first time I actually listened to Chet. I bought the Teensville album and a thumb pick, and then I found another friend that had some EP's of Chet. From those I listened, learned, and loved the music of Chet. Then I think I got the Fingerstyle Guitar album which is still one of my favorites. I started to buy Chet albums, and I still have all of them, some with the price tags still on them.

How about Merle Travis?
I was buying his records also, and I really loved the sound of his acoustic Martin guitar with the Bixby neck and all those tunes like "Nine Pound Hammer."

What was your first electric guitar?
Around this time my parents gave me a Harmony arch top with F holes. I was loaned a D'Armond pickup which clamped on the strings between the tailpiece and the bridge, and had a long rod that you moved the pickup on forward or backward to adjust the tone. I also borrowed an old Silvertone amplifier, and so in high school we formed a little group called the Silvertones. The whole band would play through this amp, two guitars, a bass, and a microphone, and it would vibrate across the floor. None of us could drive, so we had to walk and carry this amp around. When I was 16, I got my first Gretsch, a Tennessean. I had a friend who owned a music store and he let me have it wholesale. I paid for it with money I earned working on farms and mowing grass.

Do you still have those guitars?
I do. I have the Tennessean here and the Harmony is back home with my mother. Between Morning (my wife) and I, we have about 20 guitars now. I have let my guitar collecting get out of control and I probably need to sell a few. I have several old Gretsch guitars, a Johnny Smith, Kirk Sands nylon electric, a Taylor, a nice Morris that was made for us, and of course my Hollenbeck.

When did you first start playing jazz?
As my parents were more jazz-style players, and had a lot of jazz records by people like Oscar Peterson, Ella Fitzgerald, and a lot of big band stuff, I was exposed to a wide variety of music. Chet recorded some of these standards like "Sophisticated Lady" and I would hear both versions and compare the arrangements. This expanded my range of music in jazz as well as pleasing my parents, but of course I still loved Chet's music.

Tell us about the first group you were in.
When I got my Gretsch, my brother turned the Harmony into a bass by making the tone as low as possible, and playing the bass notes. Later he was able to buy a real bass and a little bass amp. I'm sure we sounded pretty bad and distorted.

So what did you do after high school?
I continued playing music for a living, enrolled in junior college, and got a two year degree in liberal arts. Then I went to Madison University and got a degree in Sociology. I never used it though, I just always played music.

How did you meet your wife, Morning Nichols?
She worked at a music store, and I would go there to buy strings or something and to see her. She played rhythm guitar and sang, and so we played a few jobs together, and eventually got married. We have been married and working together now for almost 23 years.

Do you have a manager or promoter?
No, we are self-managed, I guess you would say. Most of our bookings are by people that have heard us or of our music. We have played some jobs for a length of time, but steady jobs come and go as clubs rotate their entertainment. We work in Europe a few times a year, and we play around California, and of course the Chet Atkins Appreciation Society Convention, which to us is like a kid playing in a big sand box.

When did you first go to CAAS?
Morning had been encouraging me to go, and Muriel Anderson had told us about it, and maybe John Knowles, but I think what really caused us to go to CAAS was that Chet was playing in San Francisco - but I had a gig that night. After I finished about 10 o'clock, I rushed over there but I had just missed him. That was the second or third time in my life that I had tried to meet him. So that made up my mind to go to CAAS. I believe it was 1992, I walked in and heard all that Chet music and said "I am home." I had been playing jobs where fingerstyle music wasn't really called for and hadn't played much of Chet's music, and so I had a lot of catching up to do. The reality of playing music for a living is that you don't get to choose the jobs, and so I had neglected Chet's arrangements most of the time. But what an eye-opener, and I guess because my brother and I played such a wide variety of music and knew so many different styles, that we just fell into backing many of the entertainers. That is why CAAS is such fun because we all enjoy the same kind of music, and you can play "Swedish Rhapsody" or "Lisa" and the audience will stand up and applaud for you. There, and at AFG as well, you feel recognized for your accomplishments, and it reinforces your desire to play fingerstyle guitar. You are playing in front of other guitar players that know the music, so you have to be polished and strive to do your best.

How did you become associated with Hollenbeck, and have a signature guitar?
One year at the CAAS Convention, I believe I had taken a telecaster and a flat-top or something to play, I picked up one of Bill's guitars and played it, and it spent more time with me at the convention than in his booth. I just fell in love with it, and bought it. I used it on a couple of videos, and so one day he called me and said, "instead of playing a guitar that is almost what you want, why don't you play one that is exactly what you want?" So we put our heads together and decided on a few features, like having a solid top with no F holes. I measured the necks of four of my favorite guitars to get the exact size I wanted. He made a nice carved body with maple back, sides and neck, and sycamore (an English maple type) for the top. He put Seymour Duncan Humbucker pickups with two coil- cutting switches, with tone and volume control knobs for each pickup, and a master volume which gives me the flexibility for any sound that I desire.

What kind of effects, amps, and picks do you use?
I have several different echo pedals, a delay pedal that gives me several different types of delay, and a couple of volume pedals. I am always experimenting, trying to get the sound I want for a particular tune or job. I have an AER Acoustic Cube that I use a lot, with effects built into it that I use with an extension cabinet that has a JBL 12, if I am going to be playing moderately loud. My workhorse amp for really loud gigs is a Mesa Boogie Mark 4 with one 12 inch speaker, and then I also have a Matchless Chieftain, a class A tube amp with two 12 inch speakers which I really like, and sounds a lot like the old Standell amps. I like the Fred Kelley Slick Picks; the yellow ones which I believe are the widest. I have tried a lot of different things, but these are the ones I use now.

What is the highlight of all the times you played with Chet?
I guess the highlight musically in my career was becoming friends with Chet, and being accepted as a guitarist by him. For 36 years I only knew him through his records, and when I did meet him and shake his hand it was pretty emotional. I got to play with Chet several times at the CAAS Conventions. While we were in Nashville, after we became friends, I would usually go to his office and we would play some. There was one time he was playing in Santa Rosa at the Burbank Center, and called me up on stage to play a tune with him. It really meant a lot to me that he thought enough of me to have me up on stage with him in front of a lot of people to play, but you know I was so intent on playing good for my hero, that I never thought about being nervous. (Jim laughs) The overriding thought in my head was that if I play well, he might remember me and want to play with me again. Chet liked to play and laugh, and watch funny video tapes, and if you played with him, the smart thing to do was just sit back and learn from him. He always treated me very nice and was a pleasure to be around

Do you have any special times or routines for practice?
I used to practice a lot, but now we play more, so I practice if I am trying to learn something new or maybe trying to do something different or better on an old arrangement

Do you write any?
No, I have written some, but my brother John is a lot more creative and has written quite a few tunes. I think that is something that either comes naturally to you, or you have to really work on it.

What is it like having your spouse as your musical partner?
We are on the same wavelength musically, and enjoy playing together, and we get along really well. There is one thing about having a spouse in the music industry, she understands the problems that musicians have and never complains, because she has the same problems.

Jim, your CD's are a blend of fingerstyle guitar and jazz. Do you have any method of choosing the material for them?
As it turned out, on the Jazz and Country CD I just played about eighteen or nineteen tunes that I liked, and then when we went back to choose and edit the best, it just turned out to be eight jazz standards and eight finger-picking tunes. Normally, an artist wouldn't try to mix those two styles on the same CD, but in my case it just happened that way. On the Live From Boulevard Music CD, (Boulevard Music, in Culver City, California) with Richard Smith, we both know a lot of the same songs, and all we did was pick out the key we were going to do each number in, maybe go over the chords and do it. Then we just went back and picked out the ones with the least number of mistakes. (Jim laughs) On Chet Lag Tommy Emmanuel suggested we do a CD for Chet, so we did about the same thing. We made a list of songs, went over the arrangements a couple of times, and the total studio time to record that CD was about a day. That CD was meant as a tribute to Chet by a couple of his students, you might say.

Jim, you are one of the top fingerstyle guitar players, and have many admires. What would you like to pass on the readers?

I would just like to say that I think Chet was a great role model and hero to a lot of us. If you study his music, which covered such a variety of styles, you can get a really good musical education. I am thankful that I make a living at something that I love to do, can do it with my lovely wife, and also get to play with many great musicians.

Jim, I thank you for the interview. We all really enjoy listening to you and Morning's music.




© 2000 - Association of Fingerstyle Guitarists