Felten & Michelle - NEWS!
Go to recent news for Bob Felten
Go to recent news for Tami Michelle
Felten & Michelle have a song appearing on the latest compilation CD from the Jazz Society of Santa Cruz:
Corcovado (by Antonio Carlos Jobim).It features:
Bob Felten - lead guitar,
Tami Michelle - rhythm guitar,
Doc Doolittle - alto saz,
Joe Correro - drums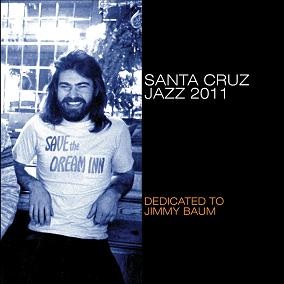 SANTA CRUZ JAZZ 2011 - New CD with 21 local jazz bands
some samples of the cd are online at Jazz Society CD Samples
Please contact Bob and Tami to purchase a copy of the CD: bob@bobfelten.com
TRACK LIST & notes
01-a little bit of wine- johnny fabulous, gary regina--- an original by johnny
02-and the angels sing- bob smith & take 2 band-- trumpeter, bob, died this Feb
03-between the devil--- velzoe brown --- Velzoe turned 101 yrs old and is still playing!
04-bie mir bist du schoen- badenov -- a Klezmer big band sound from Felton !
05-corcovado- bob and tami felten -- local gtr couple
06-dansero- jazzA --Opera singer turned to jazz vocalist
07-devil may care- jazz notes, with jim baum --last recording by Jim Baum
08-goodbye jaco- bob burnett, paul contos -- an origina by bob burnett
09-gravy waltz- steve's jazz kitchen l -- steve has been playing locally for 10 yrs and .started the jazz society
10-im hip- ruby rudman, with jim baum—recorded with Jim Baum about 25 yrs ago
11-its a lazy afternoon- warmth with Jim Lewis – Classic Cooper House band – Warmth
led by Don McCaslin who still plays every week at Severinos
12-jammin - gail cruse -- new group by former "Jazz Birds", swing with vocal harmonies, a la the Boswell Sisters, Andrews Sisters
13-meglio stasera- stella doro –sung in Italian by Stella
14-mercy, mercy- barney&dinos –teenage band with seasoned jazz sound
15-my little suede shoes-misterioso –led by blues-jazz harmonica player Rio
16-seven come eleven- hot club pacific- django type combo plays atSsoif every monday
17-seven20 in the books-mark russo—one of the few remaining local big bands
18-someone or another- tom bockhold, rob lautz, jim baum – original by tom.local pros
19-whisper not - jazz by five—band includes anaesthesiologist and neurologist
20-you dont know what love is-con sabor—Barbara Lee on flute
21-refugio- david oconnor, dennis broughton—original long time Warmth veterans
We performed Corcovado and Blue Bossa at the Jazz Society of Santa Cruz CD Release Party at Bocci's Cellar in Santa Cruz April 17, 2011.
Here is a link to an article about the event in the Santa Cruz Sentinel
---
Felten & Michelle - Association of Fingerstyle Guitarists Convention All Star Jam
The 2005 Convention Felten & Michelle All-Star Jam
By Bob Felten (with Tami Michelle)
For the 2005 AFG Convention I thought that with so many great players in the club I would really enjoy an opportunity to perform with some of them. So we booked our set as the Felten & Michelle All Star Jam.
Tami and I invited AFG players who live locally, were available for the scheduled rehearsal and convention, and who had played with us on other occasions. These included AFG Musical Director David Oakes, long time AFG member Ric Ickard, and the Guitar Romantica duo Andres Carrasco and Kent Lindsay. We also wanted to surprise the AFG audience with someone special. Tami and I had performed with Doc Doolittle (alto sax) for several years, and we thought it would be cool to introduce Doc to the AFG (and the AFG players to Doc.) He is an incredibly creative, melodic player in any style. He produced Tami's "Lucky Man" CD (recorded at A&M's Studio C), and has played professionally for years on the road - and off - with several name musicians (Jackie Wilson, Natalie Cole). We also wanted to include Bob Saxton, although we knew he wouldn't be in town for the rehearsal. We hoped if we sprung it on him at the convention he would be willing to join us, which he was happy to do.
On a stormy day, in the middle of a downpour, during what became the 2'nd most rainy season in L.A., this group of great musicians hauled their equipment up the stairs to our house in Redondo Beach, California.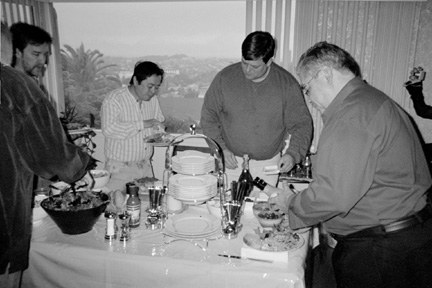 Kent, Ric, David & Andres at the buffet

I wanted to start the jam with just a few musicians, then slowly build up by bringing in additional players one or two at a time. Each player was matched with certain songs to bring out textures in the tunes. Lastly, to be able to ensure good sound, David would be on the sound board when Tami was performing, and Tami would run sound when David was on stage.
After Tami's very nice buffet lunch, we got down to business. I'll describe the songs in the order performed at the convention. First were two Tami Michelle originals - "Still the Spark" and "Your Eyes" - with Tami on Fingerstyle guitar / vocals, Doc on alto sax. This was intended to be a gentle opening, introducing Doc and showcasing his soft melodic sax over and around Tami's Gibson L-5 and beautiful voice. Then a special surprise: Tami, Doc, and Bob Saxton performed the classic Eddie Arnold tune "Any Time" (written by Zeke Clements). Tami had previously recorded this song in a Santa Monica, California studio with a backing band of name players - again produced by Doc Doolittle. She wanted to do this song for AFG founder JD Roberts, as it was the title tune on JD's debut CD last year. Bob Saxton and Doc had fun trading some great country licks back and fourth over Tami's rhythm guitar and vocals.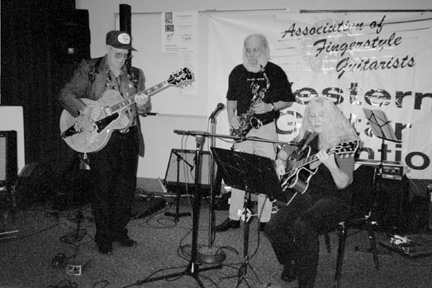 Bob Saxton, Doc Doolittle & Tami Michelle
Ric joined Doc on the Blackburn and Suessdorf standard "Moonlight in Vermont." This gorgeous ballad is one of Doc's favorites, and has been recorded by Frank Sinatra, Mel Torme, and as a duet by jazz guitarist Johnny Smith and sax player Stan Getz. (One of Doc's influences.) Doc recorded a beautiful version on his own CD "The Doc Doolittle Quartet." Ric had also been performing this song solo. At a Felten & Michelle gig at Borders Books awhile back, Doc and Ric were our special guests. Tami requested they play "Moonlight in Vermont" that night as a guitar/sax duet. It was absolutely stunning! At our rehearsal for the AFG convention everyone was spellbound as they ran through it. Ric had brought his new seven-string guitar and was playing it for the first time that day.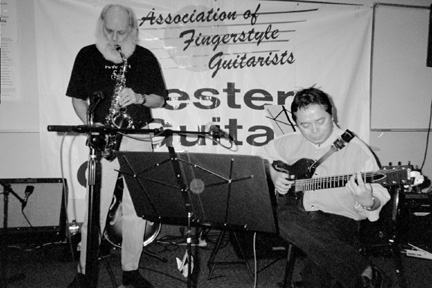 Doc and Ric at the Convention
Next we rehearsed the songs I was planning to perform with Doc and the other guitar players. These were some jazz tunes I had been performing at my weekly solo restaurant gig in Palos Verdes. First, with David Oakes, Ric, and Doc was "Autumn Leaves," a standard recorded by several different artists.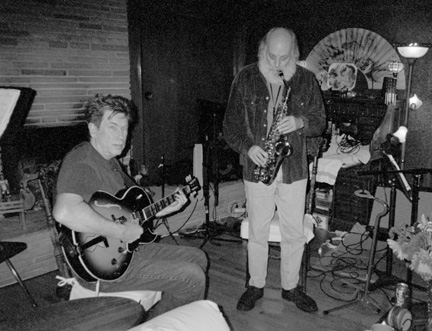 Bob Felten & Doc Doolittle
Then we planned to step up the energy of the show, bringing in Guitar Romantica (Andres and Kent).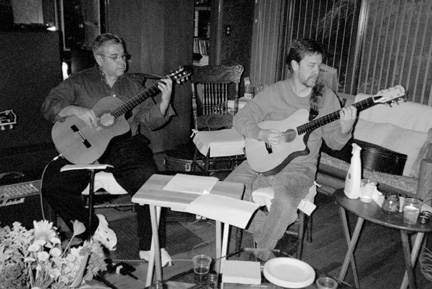 Andres Carrasco & Kent Lindsay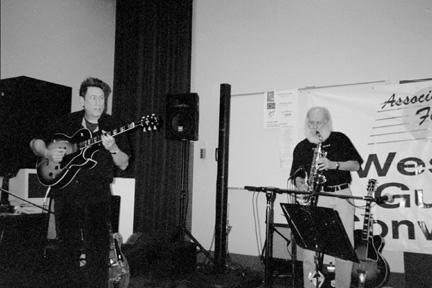 Bob and Doc on Stage
By now there were five guitarists plus Doc, and we all took solos on "Blue Bossa." This Kenny Dorham latin tune recently appeared on the Guitar Romantica debut CD "Beyond Borders." We rehearsed it faster than usual, but not as fast as Andres and Kent's version. David Oakes jokingly called it "Blue Samba." We followed that with the Charlie Parker blues "Billy's Bounce."
For our last tune Tami joined us on guitar on the seven-guitar-and-sax-grand finale "Limehouse Blues." This tune has been around decades longer than any of us. I've heard it played in many styles including versions by Chet Atkins with Jerry Reed, and in the 1920's by guitarist Eddie Lang. I play a double string harmony arrangement taught by David Oakes at one of our AFG seminars a few years ago.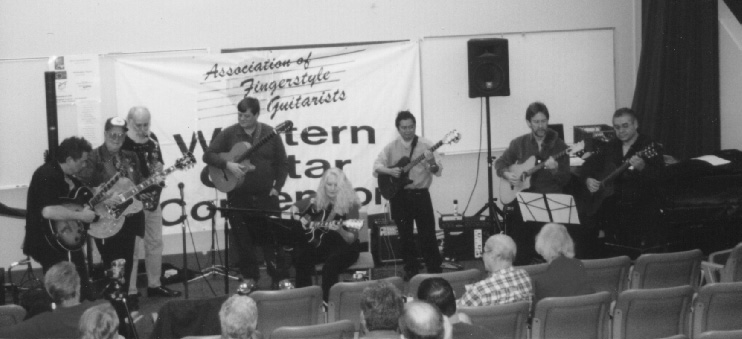 The Grand Finale - Bob Felten, Bob Saxton, Doc Doolittle, David Oakes, Tami Michelle, Ric Ickard, Kent Lindsay, Andres Carrasco

After this final number, JD Roberts and Freddie House formally presented Doc with an AFG pin, inviting Doc to be an honorary member of the club as well as naming him official AFG Sax Player.
More recently Doc played with David Oakes at Granita out in Malibu, and has added his alto sax to a new jazz CD I am currently recording, which will include "Autumn Leaves," "Blue Bossa," and "Billy's Bounce."

Web design © Copyright 2006 - by Bob Felten